Apartment Description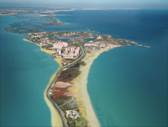 LA MANGA DEL MAR MENOR is a beautiful 23 kilometer long and 16 do 400 meter wide peninsula. It is located at Costa Blanca – southern Spanish coast, between two regions of Murcia and Andalusia. It is surrounded by the Mediterranean Sea from the East and Mar Menor Bay from the South-West. It is called "the paradise between two seas". The temperature rises to 20°C quite often, even in December.
APARTMENT
The apartment is located at the end of La Manga Peninsula, 17 kilometers away from the mainland in the urbanized area of La Manga Beach Club.
It is located directly at the beach. The glass-walled living room overlooks a stunning and unique view of Mar Menor (The Small Sea), the mountains and the view of the local seaside towns.
You can admire a breathtaking view of the sunset while lying on the coach in the living room or relaxing in the terrace. You can relax while listening to the sea waves at night and admire the view of the town-lit coast. The apartment is about 70 square meters, it's new and has got the air-conditioning. The living room was especially and uniquely designed.
A glass wall is the border between the apartment and the sea view. You can watch the neighborhood and children playing around safely and freely.
50 inch top quality LCD TV screen with a DVD player and game box are located in the living room. The coach in the living room can serve as a bed for two people who are not too tall.
Additionally, there are two bedrooms, one with a double and very comfortable bed, the other one with two single beds. One of the bed can be folded to provide more space for children to play. There are two fully-quipped bathrooms, one with a shower and the second one with a bath. Fully equipped fitted kitchen and a washing machine are also provided. Guests are given the possibility of using a hair-dryer, iron ,iron desk, microwave, toaster, fridge etc. Meals can be served at the table for up to six people.

Two outdoor swimming pools have been provided as well as two Jacuzzis and a safe and shallow paddling pool for children.
The car can be parked within the area or in a private underground parking lot. The deckchairs and beach toys are provided as well as a bike stored next to the parking lot. The store can be used to keep fishing and surfing equipment.
A number of restaurants are located nearby. One of them is located directly at the beach 200 meters from the apartment. Many cafes and shop can also be found in the neighboring area. The closest 9-hole golf course with a driving range is within 4-minute walking distance. The buses run alongside the peninsula and a ship offers the possibility of traveling to the other side of the Mar Menor.
Those who like the heat, seaside and Spain will always be coming back to LA MANGA MAR MENOR