ACCESS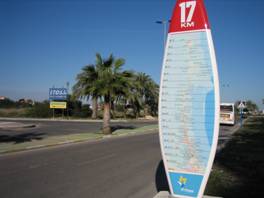 ADDRESS:
Gran via La Manga, Poligono J-4, Astor 1, 6C, La Manga (17 km!!!)
30-380, San Javier

GPS:
37'46'16N,
0'44'55W
It is the first building stage left if you are on the road.
-parking place no 62
-storage no 17. You can find there children toys for the beach and beach chairs.
-intercom no 81
If you go on a family holiday, the car seems to be the best choice. The motorways across Germany, France and Spain are just perfect. Before you leave, we recommend checking the website www.viamichelin.com. All the information concerning motorway fees, fuels prices and the best routes are included there.
The fastest way to get on spot is by plane.

The peninsula La Manga is located 60 minutes from the airport in Alicante and 30 minutes from the airport in San Javier. You can get to the apartment from Alicante driving the road N332 along the coastline and admire the beautiful views at the same time.

You can get to La Manga much quicker driving the motorway AP7. There are two toll gates and we are required to pay.
The apartment is located on the 17th kilometer of the peninsula, from the bay side.